The picture is a link that will take you to the story. Josh could be any where & I want him caught. If you still want to delete this, then okay. But I had to try. Thank you for your time.

Escaped Convict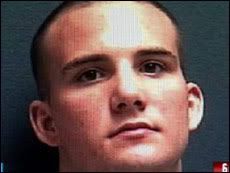 click pic for more details


Click pic for more info & to read about Jeff Grisham(pic of him)


I went to High School with this kid, he & his brother road my bus. They were always the "bad ass wannabes" Christmas eve a few years back in the shopping center on Piedmont Road called Piedmont Village (where the old Winn Dixie was) he killed Jeff, a boy who was trying to stop a fight that was in progress. He was helping & in stead got bludgeoned to death with a baseball bat by Josh & one other kid. For stopping a fucking fight over stolen radio shit. Nice to know being a good guy will get you killed. I didn't really know Jeff, but one of my good friends, Derek did. If you have seen him please, do something about it. Call the cops. Don't let this bastard walk free. he deserves worse than the 18 yrs he was sentenced to in, in my honest opinion.

Thank you for any & all of your help.

*X-posted for greater chances*
Please pass on/post this.


The news struck a particularly painful chord in the Cobb County relatives of a 19-year-old Jeffrey Grisham, Jr., who was beaten to death by Thompson.

Nearly three years later, the teen's mother, Holly Phillips, says she's still working to reconcile the pain and anger she still feels about her son's violent death.

"It destroyed me. It honestly took everything I had because he was so good," Phillips said.

Anthony Philips, Grisham's stepfather, said, "Jeffrey was like, he was the cornerstone of our family. He was always the one that was in a good mood. He could make just about anybody smile. He was just that kinda kid."

A memorial to Grisham still stands at a shopping center in east Cobb County. He was beaten to death in the mall's parking lot just two days before Christmas in 2001. His attempt to break up a fight among a group of teens found him on the wrong end of baseball bat that was turned against him.

Police eventually rounded up the culprits, which included Thompson. Once convicted, he and another teenager – Daryl Burton – received 18-year prison sentences for voluntary manslaughter. Burton is serving his sentence in Telfair State Prison in east Georgia.

Anthony says he doesn't think Thompson poses any threat to him or his wife.

"They've never made any threats towards us or anything. It would be in their best interests not to even come around me," he said.